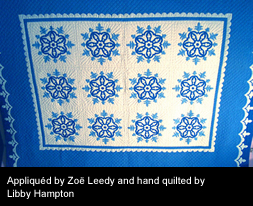 Quilting patterns for computer controlled Quilting machines
You'll find patterns and sets of patterns created by many designers, each with a unique style. Pay for your choices conveniently and securely with PayPal. Automatically download pattern files in qli, cqp, iqp, txt, hqf, plt, ssd, or mqr file format or as a paper pattern pdf accompanied by a descriptive information sheet. Be sure to view the FAQ's for more on custom patterns, automatic downloading, adding your designs to our catalog, file formats and more.

Announcements:
New Designer, Bill Hibbett, is now available. Click on his name in the list of designers or click on What's New.
Let me know if you need a pattern file conversion to your machine's format.
Egyptian Mystique and Envy of the Nile are new designs from Judy Lyon
Browse patterns by:
Type
Theme
Search for patterns:
tip: refine your search by using multiple keywords
e.g. block flowers
Sign up for our Email Newsletter

Catalog PDF Download
Catalogs are PDF documents and require Adobe's free Acrobat Reader to view.
You can download individual designer catalog's when this icon
appears next to their name.